The great thing about this salad is that it's the perfect side dish to any meal, can be eaten on its own for a #meatlessmonday, or you can add a lean, grilled protein on top to enjoy it as an entree! I love salads with lots of colors and especially with fresh olives. This is guaranteed to disappear quickly once you set it out.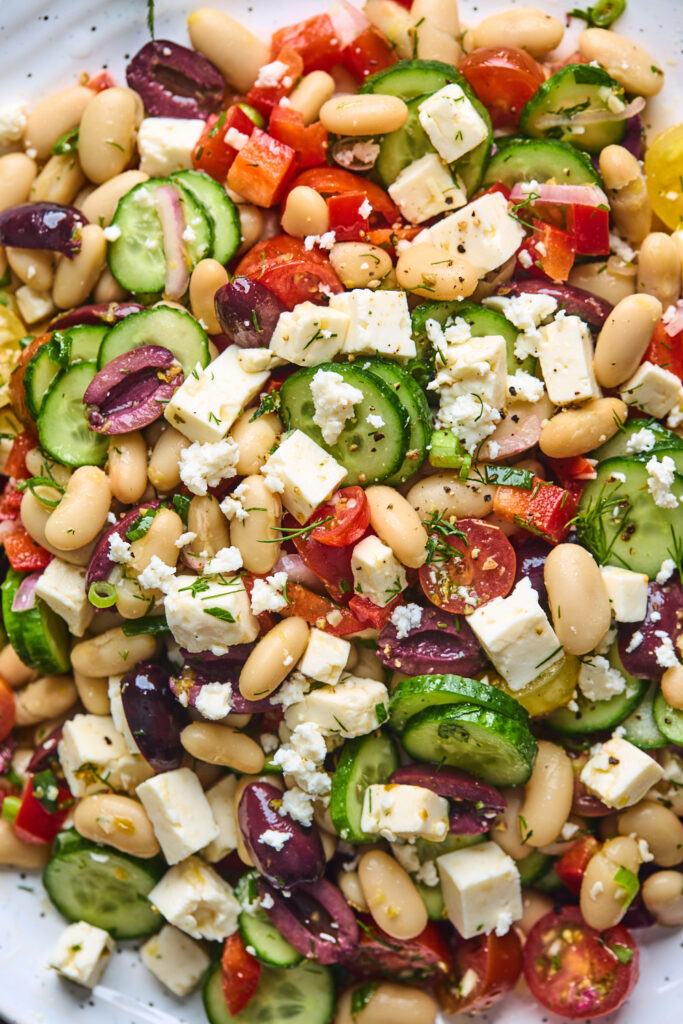 INGREDIENTS.
For the salad
2 cans of white beans rinsed and drained (white kidney beans or cannellini beans)
2 mini cucumbers (or ½ English cucumber) thinly sliced in rounds or chopped
2 spring onions finely chopped
1 shallot or small red onion small, peeled, and chopped
1 tablespoon fresh chopped parsley
1 tablespoon fresh chopped dill
⅓ cup pitted and sliced Kalamata olives (I also love to add fresh Castelvetrano olives)
1 small diced red or yellow bell pepper (or both!)
2 cups cherry or grape tomatoes, halved
½ cup crumbled or cubed Feta cheese, plus more to taste
For the dressing
1 large garlic clove, peeled and minced
Zest and juice of 1 lemon
1 teaspoon dried oregano
1 tablespoon red wine vinegar
¼ cup olive oil
INSTRUCTIONS.
Prep all of the ingredients: drain and rinse the beans, halve the olives and tomatoes, cut the cucumber into small pieces, slice the red onion, roughly chop the fresh herbs, and chop the bell pepper.
Once all salad ingredients are prepped, place them into a large mixing bowl, stirring, and toss to combine.
To make the dressing, add all dressing ingredients (olive oil, lemon juice, zest, vinegar, oregano, garlic, salt, and black pepper) to a medium bowl or liquid measure, and whisk well to combine. You also can place them into a glass dressing jar/mason jar with a lid and shake until well combined.
Pour the dressing over the salad in a large bowl, and gently toss to coat.
Taste, and adjust seasoning, salt, and pepper if needed.
Enjoy with a crisp glass of Sauvignon Blanc. I pour myself a glass of my go-to, Pine Ridge Vineyards Chenin Blanc Viognier, for this dish.