Here are a few things to consider when cooking mussels. First, throw away any mussels that are already opened when you buy them. Second, use a paring knife to remove the fibrous strings on the outside of the mussels—called the "beard"—as they are tough. Third, discard any mussels that haven't opened during cooking. Last, mussels are always best served with crusty bread, rice, or cauliflower rice if you're low-carb'ing it, to mop up all the scrumptious sauce. Remember: mussels cook quickly, so it's a great dish if you're in a jiffy!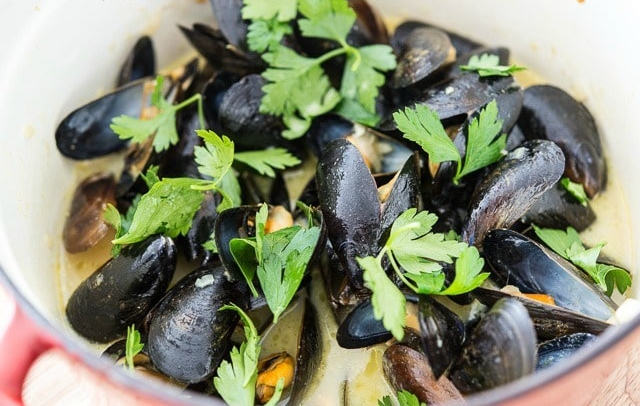 INGREDIENTS.
1 tablespoon olive oil
2 cloves garlic, minced
2 teaspoons grated peeled fresh ginger
1 large shallot, minced
1 (4-inch) piece lemongrass, white and light green parts, thinly sliced
1 Thai chile (for heat)
1 tablespoon Mae Ploy green curry paste (if not in your local store, you can purchase this on Amazon.com)
1 (15-ounce) can Chaokoh coconut milk (if not in your local store, you can purchase this on Amazon.com)
1 tablespoon fish sauce, plus more to taste
1 1⁄2 to 2 pounds mussels, scrubbed and beards removed
Juice of a fresh lime
Chopped fresh cilantro, for garnish
INSTRUCTIONS.
In a small cast-iron cocotte or pan, combine the oil, garlic, ginger, shallot, lemongrass, and chile. Place over medium heat and cook for 1 to 2 minutes, until the shallot is translucent.
Add the curry paste and cook for 30 seconds.
Add the coconut milk and fish sauce, stir to combine, then add the mussels.
Cover and cook for about 5 minutes, shaking the pan as the mussels cook, until they have opened.
Discard any mussels that do not open.
Taste and add more fish sauce if needed. Serve family-style or spoon into bowls with a squeeze of lime juice and a sprinkle of cilantro.
WINE RECOMMENDATION.
I like to enjoy spicy mussels like this dish with either a Chenin Blanc or a Grüner Veltliner.