Dungeness crab season is a coveted season each year in San Francisco. It's something I look forward to every year, as Dungeness crab is one of the most meat-dense crabs on the market. In many recent years, delays in the Bay Area's commercial crab fishing season has halted when you can get your haul of this delectable beauty, but trust me, they are worth the wait. As I cook with my Asian wok often, I use just a few simple, fresh ingredients on this crab to let the sweet flavor of the meat shine through.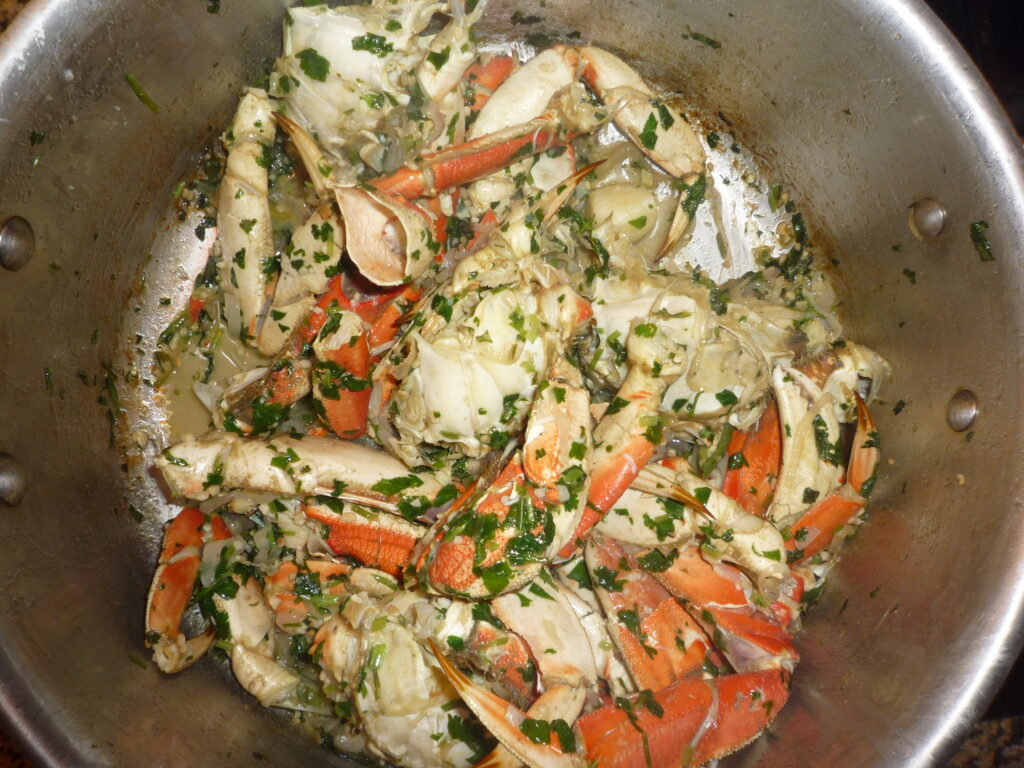 INGREDIENTS.
2 whole, cleaned Dungeness Crabs
5 shallots, circular cut
1 bunch of Cilantro, finely chopped
6 pods of Garlic – finely chopped
2 Serrano Chilies – cut in half and lengthwise
1 inch of fresh Ginger, grated
3 tablespoons butter
Salt (to taste)
Pepper (to taste)
INSTRUCTIONS.
1. When you buy your Dungeness Crabs, you can ask the attendant at the counter to break them down for you unless you know how to do this.
2. In a large pan, melt the butter then add Serrano chilies, shallots, garlic, and ginger. Stir fry ingredients until they soften – approximately 3 minutes or so. When shallots are translucent in color, add cilantro, salt, and pepper. Stir-fry again for about one minute. Then add Dungeness Crab. Mix the crab together with the ingredients thoroughly so that crab pieces are coated for a few minutes – the crabs are already cooked so don't overcook them.
3. If you love spicy food like me, I recommend your favorite bottle of hot sauce on the side for dipping your crab into. Sriracha does really go with everything, people.
WINE RECOMMENDATION.
I like to enjoy spicy crabs like this dish with either a Chenin Blanc-Viognier, a dry Riesling, or even champagne.
Recipe courtesy of Sonia Hunt. Copyright 2022-2023.