Some of the best vegetarian food in the world comes from India. The mixtures of the fresh herbs and spices make for incredible flavors that are healthy and healing to our holistic health.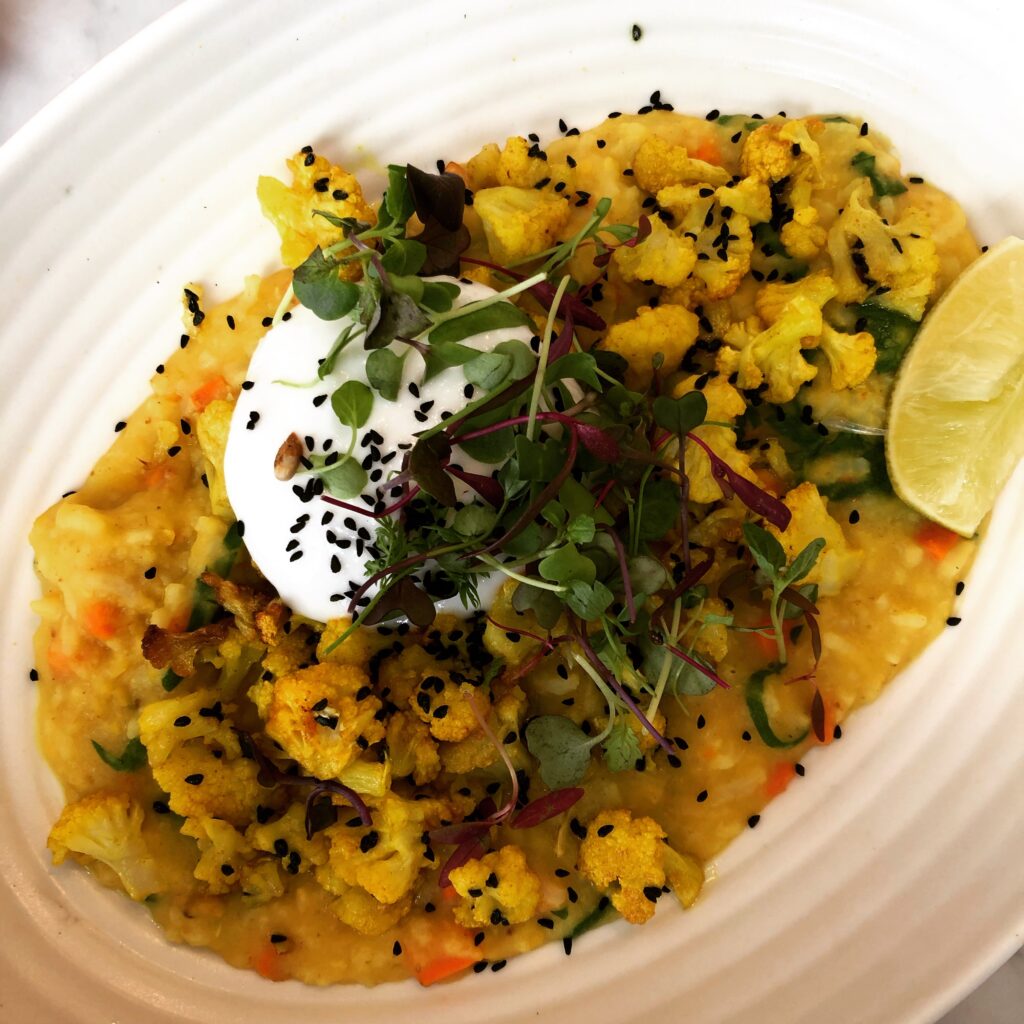 INGREDIENTS.
1 cup broccoli florets chopped into bite-size pieces
1 cup cauliflower chopped into bite-size pieces
1-2 cloves minced garlic
1/4 cup water or vegetable broth
1 1/2 cup canned garbanzo beans, rinsed and drained
1/2 cup canned petite green peas, rinsed and drained
1 tablespoon fresh ginger, peeled and minced
1 teaspoon ground garam masala
2 teaspoons ground turmeric
1/2 teaspoon red chili powder for heat
1/2 teaspoon ground black pepper
2- 8oz. cans crushed tomatoes
1 can coconut milk
Salt to taste
black sesame seeds for garnish
2 cups quinoa or brown rice
INSTRUCTIONS.
Heat a skillet over medium heat and add the chopped broccoli and cauliflower. Deglaze the pan by adding water or vegetable broth, one tablespoon at a time. This will prevent the veggies from sticking to the pan.
Cook the broccoli and cauliflower for about 3 minutes. Continue to add a little water, if needed.
Add the minced garlic and stir with the broccoli and cauliflower for about two minutes, until the garlic becomes slightly fragrant. Then add the garbanzo beans and peas and mix them together.
Add in the ginger, garam masala, turmeric, red pepper, salt, and black pepper. Stir the vegetable mixture and spices until well blended.
Continue to cook for another 2 minutes. Then reduce heat to simmer.
Add the crushed tomatoes into the pan. Cover the pan and simmer for 10-15 minutes, stirring occasionally, until the veggies are softened.
Remove the cover and add the coconut milk and mix well into the vegetables.
Place the cover back onto the pan and let vegetables simmer for another 5 minutes while the sauce thickens up, and then remove from heat. Taste to make sure the vegetables are booked.
While this is cooking, make the quinoa or brown rice according to the package directions.
Once finished, top the quinoa or brown rice with a scoop of the curried vegetables.
Sprinkle with black sesame seeds for garnish, and enjoy!
WINE RECOMMENDATION.
I love serving Pinot Noir with Indian food. My recommendation for this dish is a 2018 Mount Edward Pinot Noir Central Otago.