These antioxidant and anti-inflammatory turmeric bars are a delicious treat that requires zero baking. They're gluten-free, dairy free, and free of refined sugars. Most importantly, they're packed with healthy fats! This recipe was adapted from blogger, Kerri Axelrod.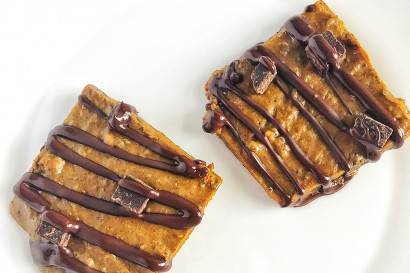 INGREDIENTS.
For the Crust
3/4 cup coconut flour
1 tsp cinnamon
2 cups butter
1/2 cup maple syrup
For the Filling
INSTRUCTIONS.
Line a square 9 x 9-inch pan with parchment paper and set aside.
In a large mixing bowl, add dry ingredients for the crust, mix, and set it aside.
In a pan on the stove, melt the butter with maple syrup until combined.
Mix your wet and dry ingredients and mix until a thick batter remains.
Transfer the dough to the lined pan and press firmly in place. Refrigerate this for 30 minutes.
Then, melt the chocolate chips and coconut oil on the stovetop and pour them over the bars.
Top with coconut flakes and additional cinnamon and Terra Origin Organic Turmeric Blend if desired.
Freeze until firm.
Store in the refrigerator or the freezer in an airtight container for up to 5 days.