If there's one restaurant that I'm obsessed with, it's Hillstones (which used to be Houston's). There aren't many left in the U.S., but I know all of the dishes like the back of my hand – including this one! They have a spinach & artichoke appetizer that is incredible. But as I do, I recreated this dish in my own kitchen, healthier and allergy-friendly. This brings me back to childhood memories when my mom used to make this dip for a dinner party and we'd eat it up before the guests arrived.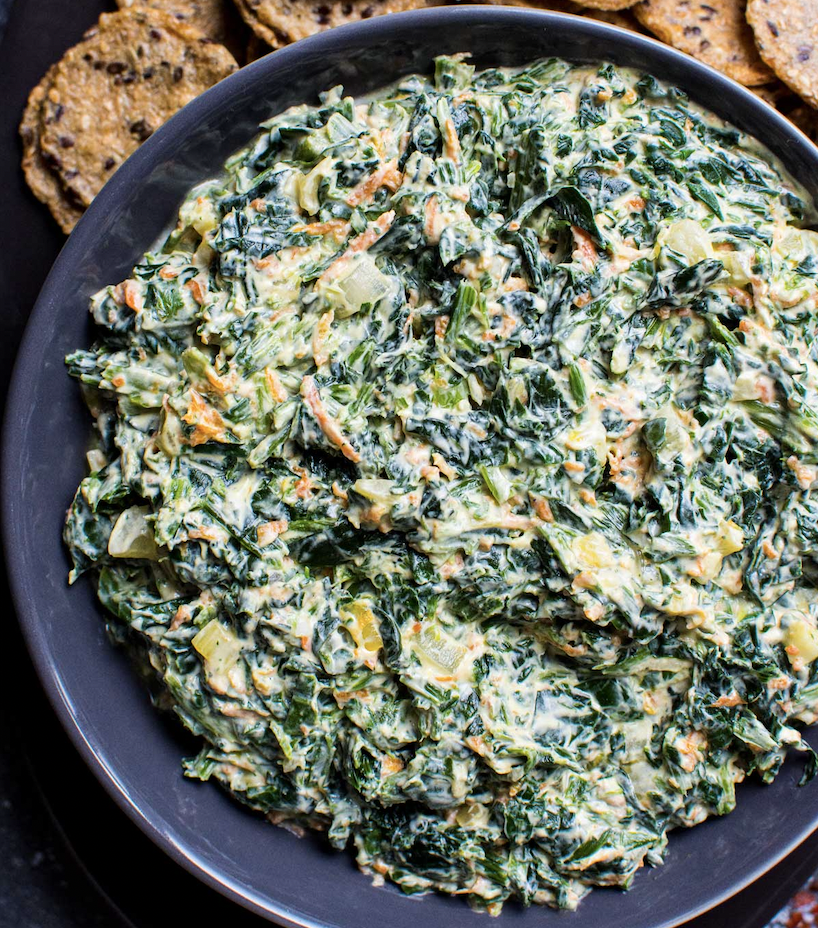 INGREDIENTS.
2 packages of fresh spinach (Substitute: use 2 x 10 oz packages of chopped, frozen spinach)
1/2 large onion, finely chopped
2 large garlic cloves, minced + 1 small garlic clove, grated
1 jar of Artichoke hearts, chopped
1/2 can of water chestnuts, diced
2 tablespoon olive oil
2 cups Greek yogurt (Substitute, use regular plain yogurt with at least 2% fat OR plain, dairy-free yogurt)
1/4 cup mayo (Substitute: you can use vegan mayo, or sour cream, OR can be omitted if you are not into mayo)
1 teaspoon salt
Ground black pepper to taste
*1 medium carrot finely grated (if you like carrots in your spinach dip)
* If serving hot, can add grated cheese, or vegan cheese as a healthier option
INSTRUCTIONS.
Wash the spinach in a colander. If using frozen spinach, defrost it for at least 8 hours or overnight. You can also use the defrost setting on your microwave but take it slow. You don't want the spinach cooking.
Use your hands to squeeze as much water out as possible and then transfer the spinach to a medium bowl and set it aside.
Preheat a non-stick pan or skillet on medium heat and add a swirl of olive oil to coat.
Add the onion, 2 minced garlic cloves, and carrots; sauté for approximately 5 minutes until translucent. Make sure to stir occasionally.
Transfer the mixture to a bowl with spinach along with the artichoke hearts, water chestnuts, yogurt, mayo, salt, and pepper.

Note: Add as many water chestnuts as your palate desires.

Stir well to mix. Add the grated garlic to taste.
I recommend that you put this in the refrigerator for a few hours to let the flavors marinate. Everything's better when it has time to marinate! Then serve either serve it cold or warm it up in the toaster oven/oven for 10 minutes.

Note: Sometimes I add grated cheese on top to melt when I want to serve this hot. Vegan cheese works out great too!

Enjoy with veggies or your favorite crackers. I love the healthy options from Mary's Gone Crackers.
Make ahead and store: You can place the dip into an airtight container for up to 3 days.