Middle Eastern food is one of my faves, especially when I'm seeking a vegetarian fix. As a connoisseur of meatballs, Falafel is my go-to vegetarian meatball, full of insane flavors and can be a great appetizer or main entree. This recipe is courtesy of the Institute of Integrative Nutrition, where I studied and became a Certified Integrative Nutrition + Health Coach.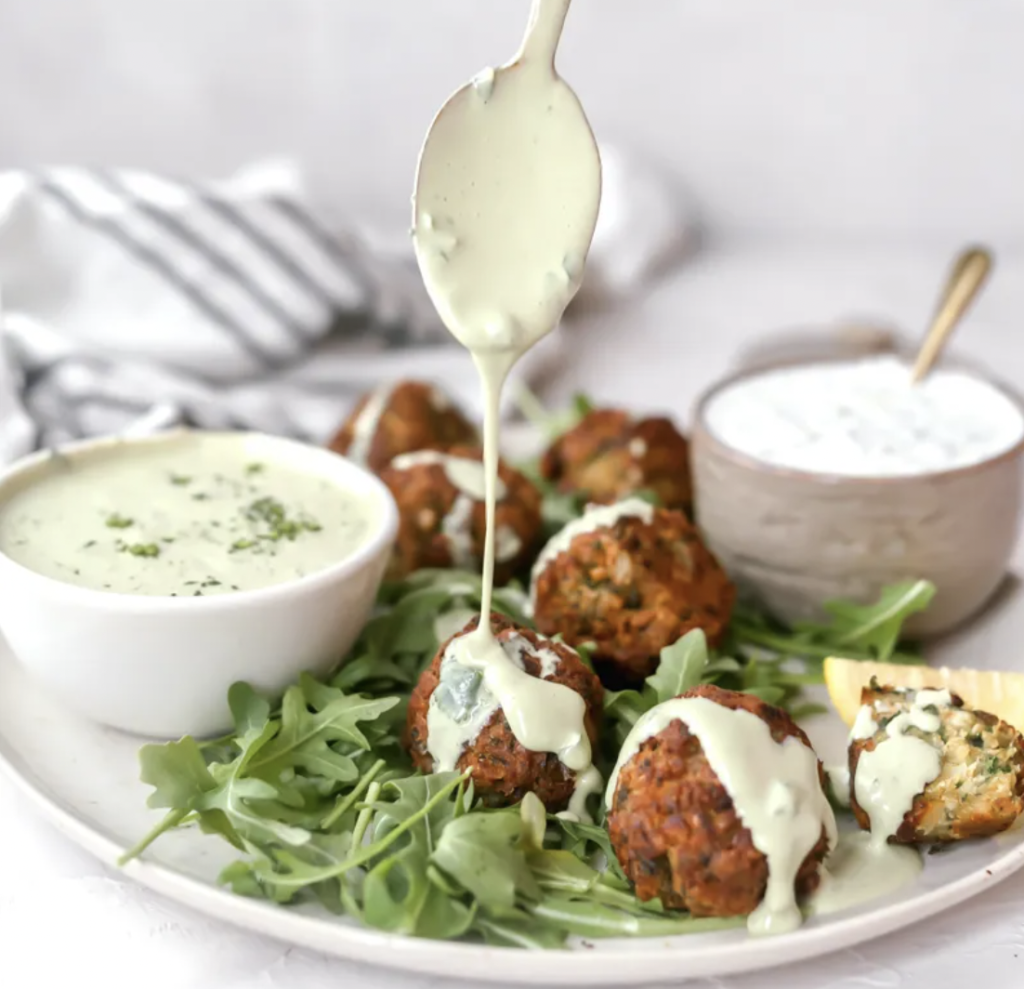 INGREDIENTS.
For the Falafel:
3 diced garlic cloves
1/3 cup chopped red onion
2 tablespoons mint, tightly packed
1/4 cup cilantro, tightly packed
1/4 cup parsley, tightly packed
1/2 teaspoon cumin
1/2 teaspoon salt
1/4 teaspoon coriander
1/8 teaspoon cinnamon
1/8 teaspoon cardamom
1/8 teaspoon ginger
1 can chickpeas
1/2 cup flour
Olive oil or Avocado oil, for frying
For the matcha tahini sauce:
1/2 cup + 2 tablespoons tahini
1/2 teaspoon matcha powder
1 teaspoon lemon juice
1 tablespoon finely chopped parsley
1 tablespoon finely chopped cilantro
1/2 cup + 2 tablespoons water
1 clove garlic, diced
1/2 teaspoon salt
For the falafel:
Combine all ingredients except chickpeas, flour, and oil in a food processor. Pulse in 5-second increments until everything breaks down into very small pieces.
Add chickpeas and pulse in 5-second increments, scraping down the sides between each.
Transfer to a bowl and gently mix in flour until just combined, and then roll into balls.
Put about an inch of oil in a deep pan and heat on medium to high. Once hot, add falafel balls. Cook on each side for about 3 minutes (until browned and crispy).
Once done, transfer to a plate lined with a paper towel. Serve with matcha tahini sauce.
For the matcha tahini sauce:
Combine all ingredients in a bowl and whisk until smooth and creamy.