Hummus is my jam! Well, not literally ? I used to buy it at the market all the time before realizing how quick and healthy it was to make at home. I love keeping this in my fridge and snacking on it with baby carrots, red bell peppers, or celery sticks. This spicy little dish is a perfect snack to keep on hand in between zoom calls.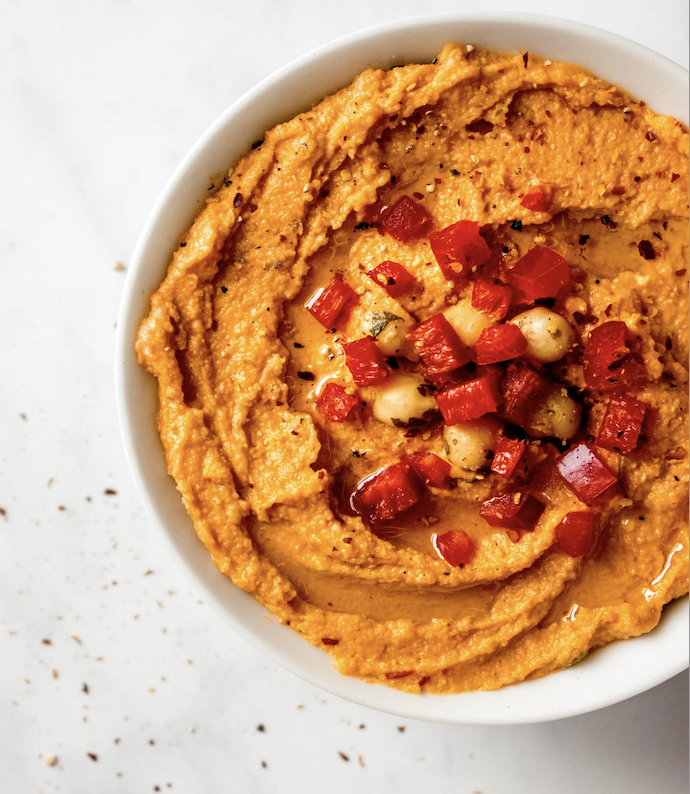 INGREDIENTS.
2-3 Red bell peppers (roasted)
1-can Chickpeas (you can use 1-cup of dried chickpeas but be sure to soak them the night before, or boil them according to the package)
1/2 cup Tahini
Pinch of paprika, or smoked paprika
Calabrian chilies or paste (for spice)
Juice of a fresh lemon
2-3 tablespoons Olive oil
3 Garlic cloves, fresh
3 Ice cubes (help to give the hummus the most creamy texture)
Parchment paper
INSTRUCTIONS.
Preheat your oven to 400 degrees and core the bell peppers into 3 or 4 pieces.
On a baking sheet lay down parchment paper and then place your bell peppers skin side up on the parchment paper.
Roast all of the peppers for 20 minutes, and then broil them for the last 5 minutes to get that black char on the skin.
Once charred, place the peppers in a bowl and cover them with plastic wrap for 10-15 minutes to let them steam so that you can easily peel off the skin.
Remove the wrap and tear off the black char/skin of the bell pepper. Roughly chop and set aside.
While your red bell peppers are roasting, drain, rinse and dry the garbanzo beans.

NOTE: if you want a more creamy hummus, peel off the outside layer of all the chickpeas. I know this is a pain, but it's worth it!

In a food processor or blender, add in your chickpeas, roasted bell peppers, tahini, extra virgin olive oil, garlic, lemon juice, Calabrian chili paste, ice cubes, salt, and pepper as well as a pinch of paprika.
Pulse and blend completely until a smooth hummus is formed.
Adjust with more ice cubes and/or olive oil to match the consistency of creaminess you are looking for.
Put the hummus into a container when complete and chill for 15-20 minutes in the refrigerator to allow all the flavors to sit together and thicken a bit.
When you're ready to serve the hummus, scoop some in a bowl and top with a drizzle of olive oil, paprika, and a few sprigs of parsley as well as a few chickpeas (optional). Serve with your favorite veggies or crackers.
Enjoy!