Thai cuisine is one of my favorite types of fare in the world! I love how the spices, fresh vegetables, and proteins are brought together in stir-fries, curries, and appetizers that have their own distinct flavors. Having had severe nut allergies my entire life until I eliminated them, I never go out and eat Thai food. So, I learned how to make Thai dishes at home so that I didn't have to miss out on the yumminess! To be honest, sometimes this was better than eating at a restaurant 🙂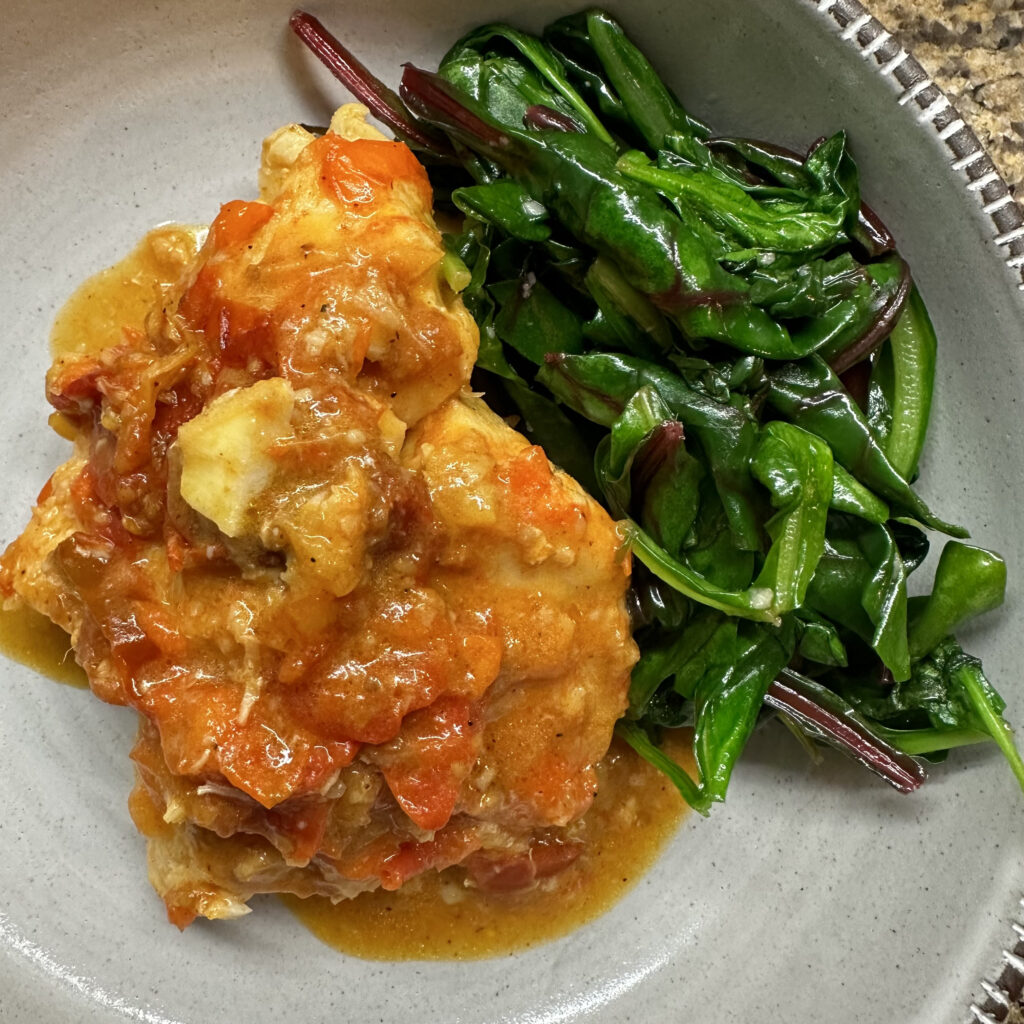 INGREDIENTS.
1 ½ lb Wild Cod (you can use any type of fish you love in this dish)
3 tablespoons Red Thai Curry Paste (Mekhala brand makes one that is nut-free, gluten-free, no sugar & vegan. I also love Mae Ploy Red Curry Paste, which tastes a bit more authentic)
2 tablespoons coconut oil (you can use olive oil)
½ medium onion, finely minced
1 tablespoon ginger-garlic paste (optional)
2 tablespoons ginger, finely minced
3 cloves garlic, finely minced
2 cups chopped veggies, i.e. tomatoes, green beans, red bell pepper (optional)
12-ounce can of Chaokoh Coconut Milk (or use Thai Kitchen Organic brand which is also good)
½ cup water
1 tablespoon fish sauce (optional)
Salt to taste
Minced cilantro and lime juice, for garnish and serving
INSTRUCTIONS.
Cut the fish into pieces about 2 inches wide and pat dry with a paper towel.
Rub the ginger-garlic paste and 1 tablespoon of the red curry paste over all of the pieces.
Heat the oil in a large pot over medium-high heat, and then add the onion, ginger, and garlic and cook until golden brown, or approximately 5 minutes.
Add the remaining 2 tablespoons of red curry paste, coconut milk, water, and fish sauce. *If adding vegetables, add them into the pot at this time and bring the pot to a boil.
Reduce the heat to medium-low and add the fish.
Cover the pot and cook for 5 minutes, or until the fish is no longer opaque. If your fish is quite thick, you may need to flip the pieces over and cook for 1-2 minutes more.
Garnish with chopped cilantro and a squeeze of lime juice. Enjoy!