A few years ago I met a plant-based entrepreneur in the world of Jackfruit who had found this incredible ingredient while traveling in India. In tasting it and experimenting with it in the kitchen, she realized that it had a similar taste and usage as many proteins, even chicken. A new idea was born to utilize jackfruit as a plant-based alternative, also great for those with food allergies. When I tried jackfruit for the first time in India as a kid I had no idea that I would be writing an enchilada recipe with it many moons later, but here I am! This recipe is adapted by Mitch and Justine over at Broke Bank Vegan, whose recipes I've made (and substituted) many times, and are deelish!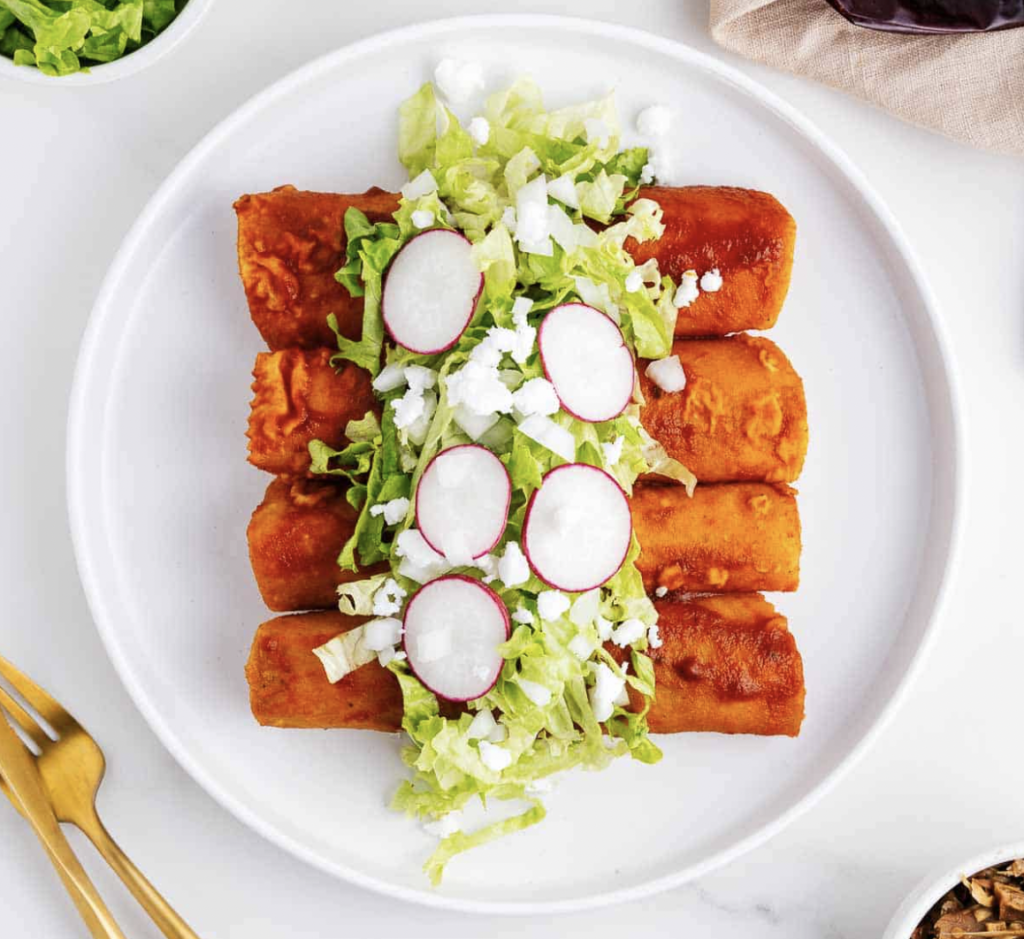 INGREDIENTS.
Corn or flour tortillas
5 tablespoons olive oil
1 ¾ ounces jackfruit (you can find jackfruit in most markets or online. If you can't find dehydrated)
½ small yellow onion, diced
3-4 cloves garlic, minced
3 tablespoons soy-free soy sauce or tamari
2 tablespoons vegetable concentrate
⅓ – ½ cup vegan feta or other vegan cheese of your liking
ENCHILADA SAUCE.
2 ancho chilies
3 guajillo chiles
3-4 arbol chiles
2 Roma tomatoes
½ small onion
3 cloves garlic
½ cup vegetable broth
¼ teaspoon Mexican oregano
Salt to taste
1 tablespoon olive oil
Shredded lettuce (optional for garnish)
Sliced radishes (optional for garnish)
Diced white onions (optional for garnish)
More crumbled cheese (optional for garnish)
INSTRUCTIONS.
FOR THE JACKFRUIT. Bring a pot of water to a boil. Add in vegetable concentrate, a pinch of salt, and the dehydrated jackfruit. Let it simmer for 20-30 minutes, or leave it to soak overnight in room temperature water, which is what I prefer.
Heat the olive oil in a large skillet over medium. Add in the diced onion and sauté for 2-3 minutes, or until translucent. Add in the minced garlic for another 1-2 minutes. Then add in the drained jackfruit and soy sauce or tamari and continue cooking until the liquid is absorbed about 5 minutes.
FOR THE ENCHILADA SAUCE. De-stem and seed the chiles, then toast them in a dry skillet over medium for 30-60 seconds per side. Bring a pot of water to boil and add them in. Turn the heat off and let them rehydrate for 12-15 minutes, or until soft and pliable.
Add the tomatoes and onions to another pot of water and simmer them for 10-12 minutes, or until softened. Drain and transfer the tomatoes and onions to a blender with the garlic cloves, vegetable broth, Mexican oregano, and salt. Blend on high until smooth.
Heat 1 tablespoon of olive oil in a saucepan over medium-high. Slowly pour the salsa in and bring it to a low boil. Reduce the heat and simmer for 15 minutes, stirring frequently.
TO SERVE. Heat a little olive oil in a pan over medium-high. Once hot, pan fry each tortilla for about 10-15 seconds per side. the tortillas shouldn't be too crispy since you still want to be able to roll them.
Transfer the fried tortillas to a paper towel-lined plate to get rid of the excess oil. Dip each one in the enchilada sauce so both sides are well covered.
On a flat surface, add a scoop of shredded jackfruit and some queso fresco to the middle of your tortilla. Using your hands, tightly roll it and transfer it to a serving dish. Continue this process with the rest of the tortillas.
Serve your enchiladas while warm with extra sauce, crumbled queso fresco or cotija cheese, fresh onions, lettuce, and sliced radishes. Happy eating!