Daal is life! It's vegetarian, vegan, and chock full of the protein you need to keep you going. Plus, it's powered with plant-based ingredients that fight inflammation like legumes, kale, and ginger. My mom made daal as a side with many meals growing up. Can't say I loved it as a kid, but as an adult, it's my go-to on #meatlessmonday and even after a workout.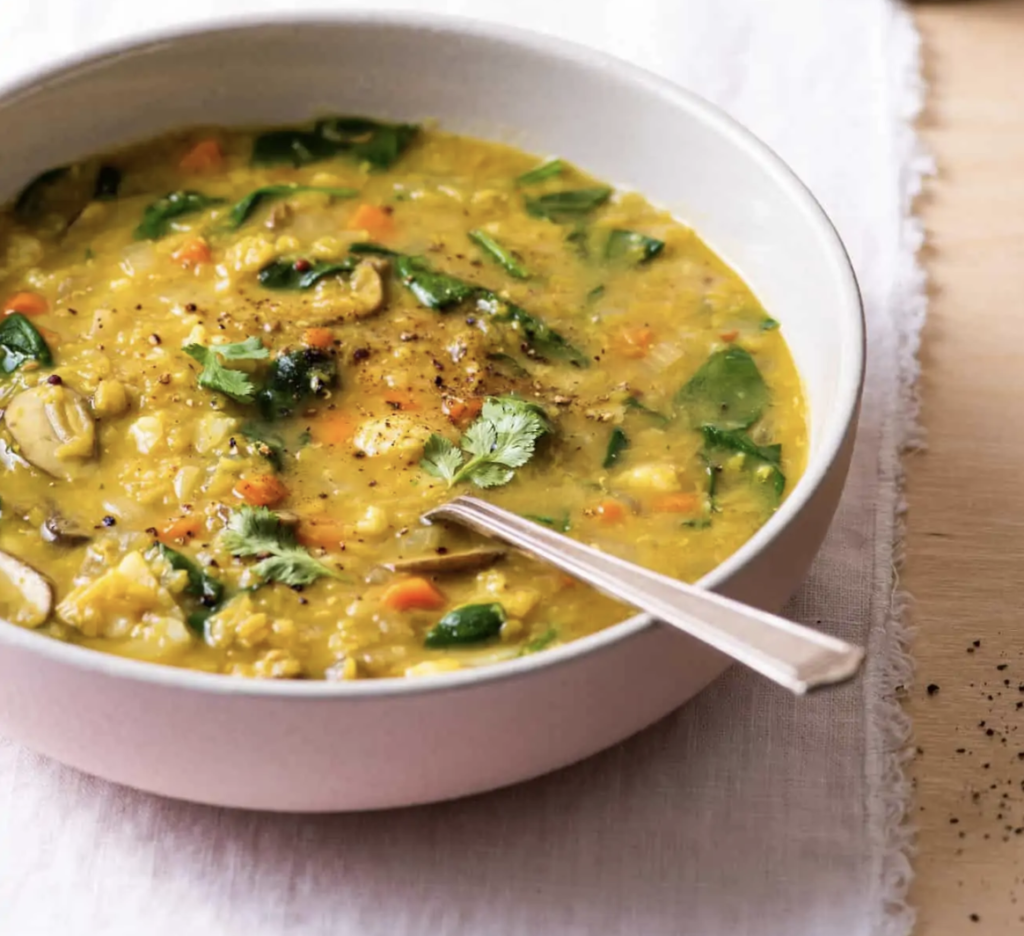 INGREDIENTS.
1 cup red split lentils
2 cups cauliflower (roughly chopped into 1-inch pieces)
1 tbsp olive oil
1 tsp each ground cumin, turmeric, and coriander
2 tbsp unsalted vegetable broth
1 small yellow onion (chopped)
1 serrano chili or 1 red Thai chili (optional for heat)
3 medium fresh garlic cloves (minced)
3/4 inch piece fresh root ginger
3 tomatoes, chopped
12 oz coconut milk (light, BPA-free can)
1 cup unsalted vegetable broth
2 cups organic kale (chopped, fibrous stems removed)
1 tbsp lime juice (preferably freshly squeezed) +1 Tbsp as needed
¼ cup cilantro (optional) chopped ¼ cup green onion (optional) sliced
Salt (optional) to taste
Ground black pepper (optional) to taste
INSTRUCTIONS.
Add the red split lentils to a medium bowl with lukewarm water and cover. Allow them to soak for 4–6 hours or overnight (I like to let them soak overnight. Rinse, drain, and set aside.
Heat a deep pot over medium-high heat and once hot, add 2 Tbsp vegetable broth and onion. Sauté for 2–3 minutes, stirring frequently, until the onion is translucent.
Turn the heat down to medium and stir in the garlic and ginger, cooking them for 60 seconds.
Add in the tomatoes, mixing them with the onion, garlic, and ginger, and cook for 1–2 minutes more.
Stir in the cauliflower, and chili peppers (if using) and sauté a few more minutes. (you can add vegetable broth or water if needed to prevent sticking.)
Add coconut milk, remaining vegetable broth, and red lentils. Stir to combine. Bring to a simmer.
Cook for approximately 30–40 minutes uncovered until the lentils are tender.
In the last 5 minutes of cooking, stir in your kale until wilted (about 1–2 minutes).
Taste and adjust flavor as needed.
Divide the daal between bowls and garnish with a squeeze of lime and cilantro, adding salt and pepper to taste.