I never met a taco I didn't like and street tacos in particular. They're a Mexican version of small bites and a central component of Mexican culture called antojitos, meaning "little cravings." Even though these are plant-based and very healthy, you can make these with any type of protein such as beef, chicken, or seafood. The end result is an absolute burst of flavor and nutrients, great for your microbiome.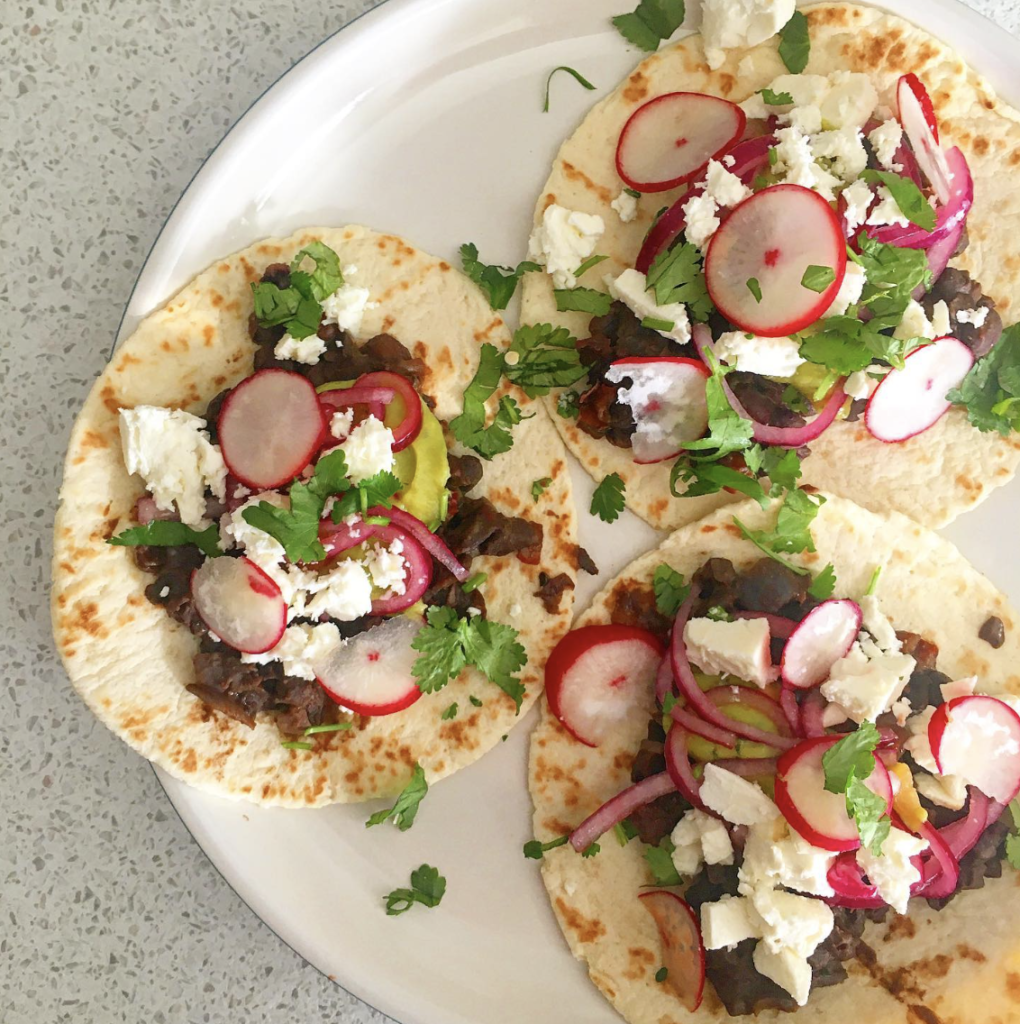 INGREDIENTS.
Corn or flour tortillas (4-inch. You can use lettuce as a cup if you're low-carbing it)
 1 batch black bean dip (see below)
 1 cup fresh salsa or pico de gallo
 Pickled red onions and/or pickled radish
 Plain oat milk yogurt (Oatly Oatgurt is great!)
 1 large avocado chopped into ½" pieces (optional)
 Cilantro (or chives, chopped)
 2 tbsp lime juice (freshly squeezed)
Vegan cheese as optional (Daiya has some deelish cheese options)
INGREDIENTS FOR BLACK BEAN DIP.
3 cups black beans home-cooked or BPA-free canned, drained. (you can also use kidney, pinto, or white beans)
½ cup red onion, chopped (can use yellow onion or shallots)
 ½ cup organic red, yellow, or orange bell pepper (chopped)
 ¼ cup jalapeño or serrano (optional) minced
 2 tsp ground cumin
 1 tsp garlic powder
 1 tsp onion powder
 2 tsp smoked paprika (add more if needed)
¼ tsp salt (optional)
 2 tbsp lime juice (freshly squeezed)
 ¼ cup cilantro (optional) chopped
INSTRUCTIONS FOR BLACK BEAN DIP
Add the black beans to a food processor and pulse until mostly blended.
Add the onion, pepper, jalapeño (if using), cumin, garlic powder, onion powder, paprika, salt (if using), lime juice, and cilantro (if using). Pulse until combined (again you'll have pieces of onion, pepper, and cilantro — that's okay and even better if you like a little texture).
Taste for additional flavors and seasonings you love.
Make the black beans ahead of time and store in an airtight container for up to 3 days before making this recipe. You can freeze them for up to one month.
INSTRUCTIONS FOR TACOS.
Heat tortillas on a griddle or frying pan on medium heat for approximately 30–60 seconds until warm flipping to warm on both sides.
Transfer to a large baking sheet, laying them out side by side (in preparation for filling them), after you heat them and continue with the remaining tortillas.
Once all of the tortillas have been heated, add 1–2 tablespoons of the black bean dip to each tortilla followed by a tablespoon of salsa and 1–2 forkfuls of the pickled red onions.
Add a dollop of oat milk yogurt (or sour cream or greek yogurt) on top of each tortilla followed by 2–4 pieces of avocado (optional).
Sprinkle with cilantro and vegan cheese if desired.
Add some fresh squeezed lime juice.
Plate and enjoy!