Who said your next Sunday football day couldn't have a touch of spice in it? I love me some spicy wings when I'm watching sports, but don't love eating fried foods or having a bottled sauce poured over fried wings. So, I came up with a healthy version of wings that is tasty, has heat, and is non-traditional.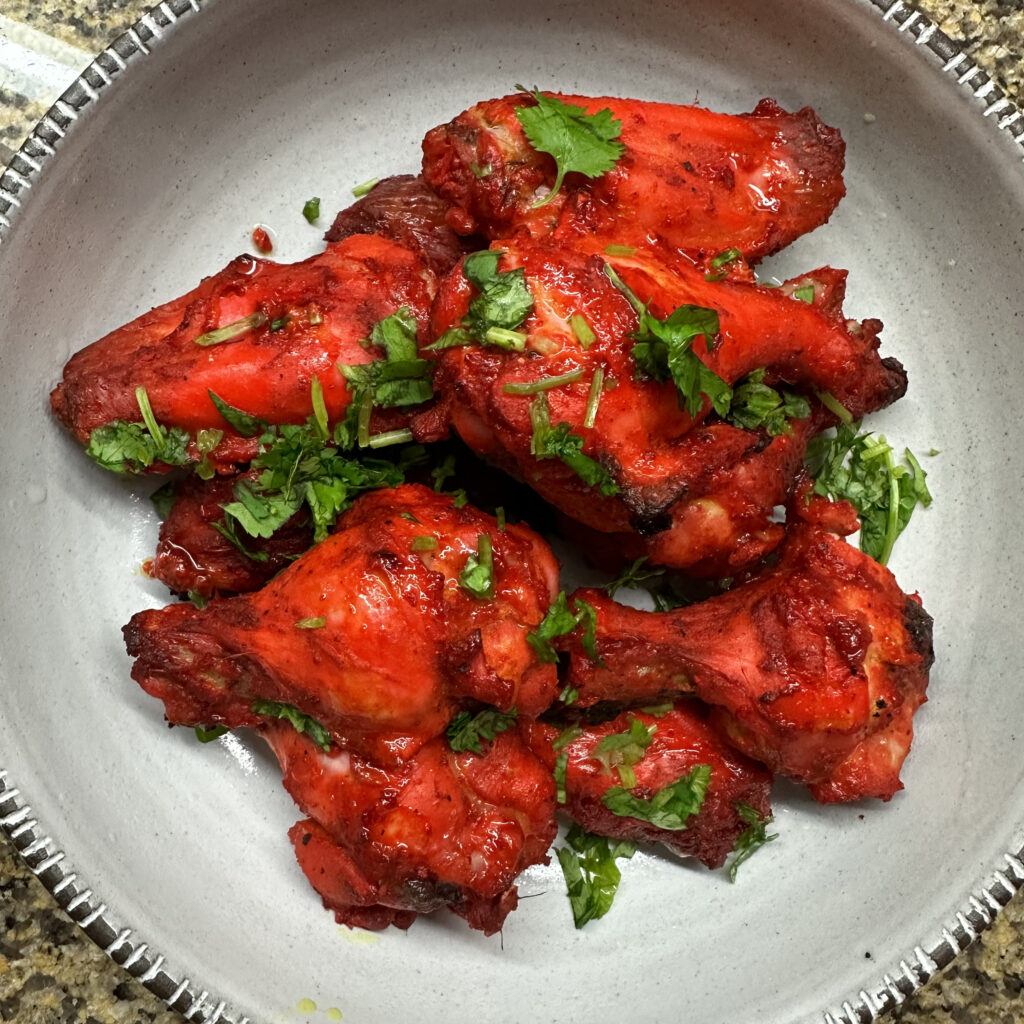 INGREDIENTS:
1.5 lbs chicken wings (chicken is one of the items you only want to eat organic)
1 tablespoon low-fat, plain yogurt (can use greek yogurt, or plain non-dairy yogurt)
1 tablespoon ginger-garlic paste (blend some ginger, garlic, and some water to make this paste)
1 tablespoon of Swad Tandoori Masala (this is the BEST Tandoori masala on the planet)
1/2 -1 teaspoon red chili powder, or paprika (whatever you use to bring the heat)
1/2 teaspoon turmeric
1/2 teaspoon coriander powder
1/2 teaspoon cumin powder
1 teaspoon salt
1 tablespoon fresh lemon juice
1 tablespoon olive oil
Red onion (optional)
Cilantro (optional)
INSTRUCTIONS:
Wash the chicken wings and pat them dry to ensure there is no excess liquid when the marinade is applied. It's okay if you prefer not to wash your chicken, either way, take care to avoid cross-contamination, and then sanitize the surfaces.
Pull off the skin and place the wings in a bowl. I de-skin my wings, but it's up to your preference.
Add ginger-garlic paste, Tandoori Masala, red chili powder (or paprika), turmeric, coriander powder, cumin powder, and olive oil.
Mix all of the ingredients well so that the chicken wings are covered, then add salt and yogurt.
Cover and place the bowl in the refrigerator for at least 30 minutes to a few hours. I like to marinate all my meat overnight for the best taste.
Preheat over (or toaster oven) to 375 degrees Fahrenheit, and place the wings on a tray covered with parchment paper.
Bake for 30 minutes. Cut open a wing to make sure they are fully cooked.
Take out of oven and carefully plate. Garnish with thinly sliced red onion and cilantro, and enjoy!