Fall is hot soup on a chilly day season, and this spiced version of Pumpkin Soup doesn't disappoint. I love adding spices from other countries into American dishes to jeuje them up a bit. This soup pairs amazingly with a grilled cheese sandwich!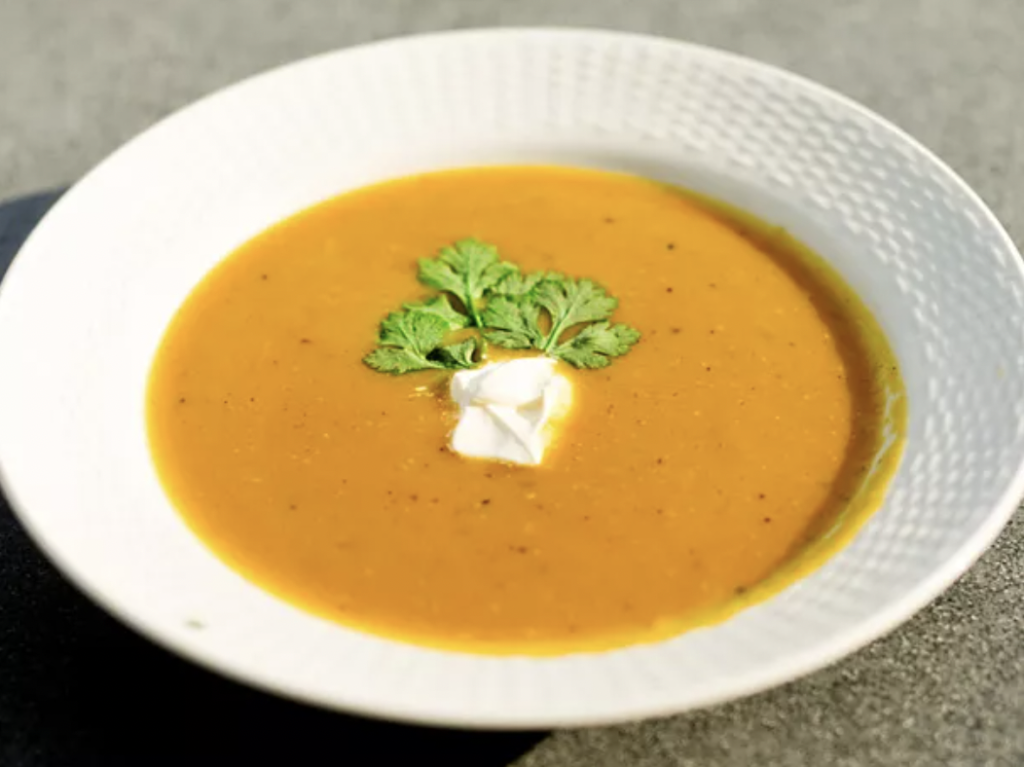 TO MAKE THE ROASTED PUMPKIN:
3 ½ cups fresh pumpkin, cut into big chunks
1 ½ tablespoon olive oil
1 teaspoon ground cumin
1 teaspoon paprika
Salt to taste
TO MAKE THE SOUP:
1 tablespoon ghee or butter (or vegan butter)
2 teaspoon olive oil
1 small onion, finely chopped
2 garlic cloves, finely chopped
1 small piece of ginger, finely chopped
½ teaspoon ground turmeric
2 teaspoon ground coriander
1 teaspoon garam masala
½ teaspoon cayenne pepper
500 ml (2 cups) chicken (or vegetable stock if vegetarian)
2 tablespoon coconut cream (or dairy-free coconut milk)
½ teaspoon ground black pepper
Salt to taste
Coriander leaves, to garnish (optional)
Naan bread, croutons, or toasted sliced Baguette, to garnish
INSTRUCTIONS
FOR ROASTED PUMPKIN:
Preheat the oven to 375 degrees Fahrenheit.
Place the pumpkin, olive oil, ground cumin, paprika, and salt in a large bowl and mix well.
Arrange the pumpkin pieces on a baking tray in a single layer and bake for 15-20 minutes or until tender. Then set aside in a bowl.
FOR PUMPKIN SOUP:
Heat the ghee and olive oil in a large saucepan over medium-high heat.
Add in the onions and sauté until they are soft.
Stir in ginger and garlic and sauté for another minute.
Add the ground turmeric, ground coriander, garam masala, and chili powder. Fry all the ingredients for another minute or so.
Add the stock and bring the entire mixture to a boil.
Place a cover on the saucepan and simmer the mixture for about 10 minutes.
Stir in roasted pumpkin, coconut cream, and ground black pepper. Simmer again, covered, for another 5 minutes. Remove from heat and the soup cool slightly.
Place the soup into a blender and puree the pumpkin mixture in batches.
Place the puree in the saucepan and reheat gently. If the soup is too thick, add more water to get a good consistency.
Remove from heat and ladle the soup into bowls.
To garnish, add coriander leaves, roasted pumpkin seeds, or even a dollop of yogurt.
For your dipping pleasure, heat a few slices of Naan bread (available fresh or frozen in your local market), or cut up slices of French baguette and toast them to place in the soup or on the side. Homemade croutons are yummy as well!