There's nothing more delicious than waking up to the smell of mom baking on a weekend. It was probably the only thing that could get me out of bed early. My mom would experiment and make all kinds of baked goods allergy-friendly when I was a kid. In turn, I took her lead and began experimenting with baked goods that were low in sugar, and with ingredients that are better for your overall health – like these Wild Blueberry Muffins.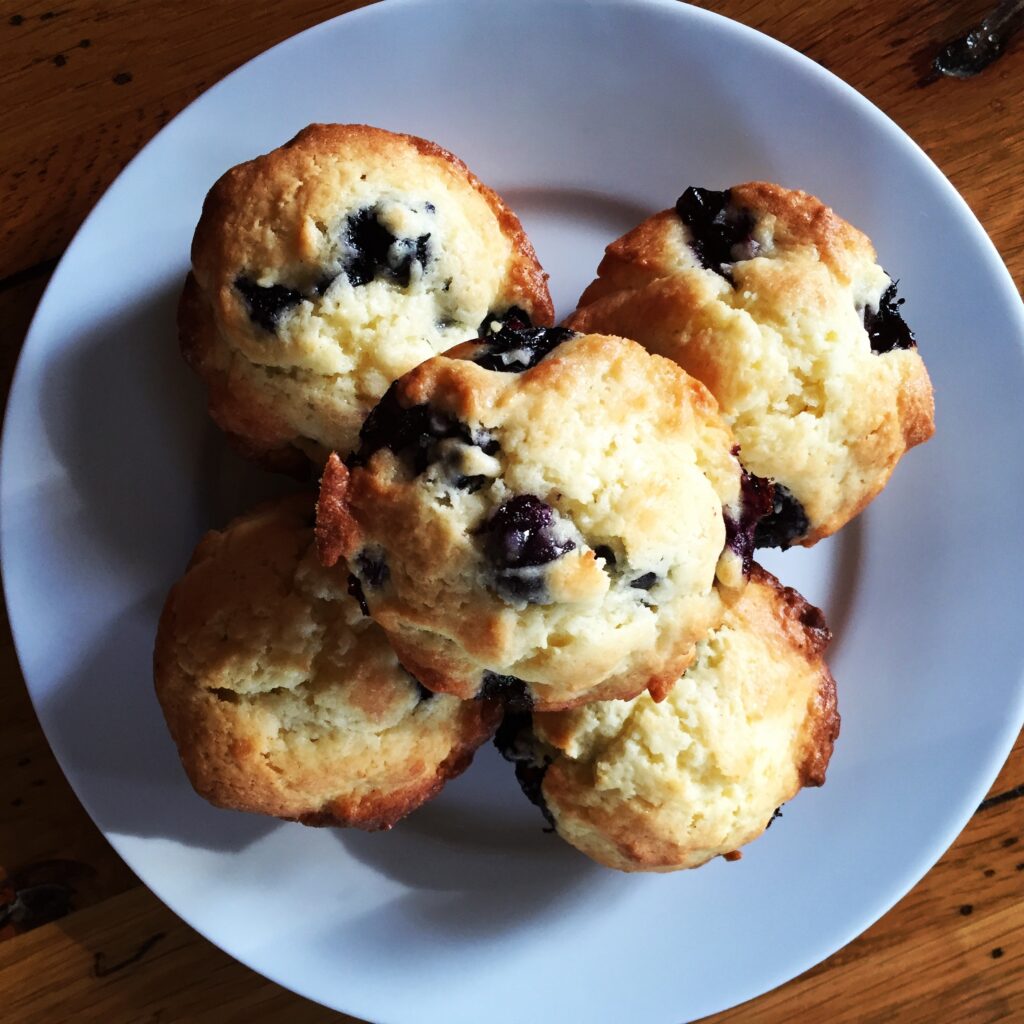 INGREDIENTS.
1 cup fresh wild blueberries
1 cup milk (or Oat Milk)
1 and 1/4 cups all-purpose flour, spooned and leveled (or King Arthur gluten-free flour)
1 teaspoon baking powder
1/2 teaspoon baking soda
1/2 teaspoon salt
1/2 cup unsalted butter, melted and slightly cooled
1/2 cup honey (if you're off refined sugar, you can use honey)
1 large egg, at room temperature (or plant-based egg replacer/substitute)
1/2 teaspoon ground cinnamon (optional)
Coconut sugar (optional)
Olive oil spray, butter, or vegan butter
INSTRUCTIONS.
Preheat the oven to 425°F (218°C).
Spray a 12-count muffin pan with nonstick olive oil spray, butter, or vegan butter, or use cupcake liners.
Whisk together the flour, baking powder, baking soda, cinnamon (optional), and salt together in a large bowl until combined, and then set it aside.
Whisk the milk, melted butter, honey (or sugar), and egg, together in a medium bowl until combined.
Pour the wet ingredients into the dry ingredients, and stir them a few times. Fold everything together gently just until combined.
Spoon the batter into liners, filling them all the way to the top.
Top with a light sprinkle of coconut sugar (optional).
Bake the muffins for 5 minutes at 425°F (218°C) and then reduce the oven temperature to 350°F (177°C). Bake them for an additional 16-17 minutes or until a toothpick inserted in the center comes out clean.
The total time in the oven is approximately 22-23 minutes, so make sure to check them with a toothpick.
Allow the muffins to cool in the muffin pan for 5 minutes and then transfer them to a wire rack to continue cooling.
Muffins can stay fresh and covered at room temperature for a few days, then transfer to the refrigerator for up to 1 week.