It's healthy and delicious to make summer popsicles at home! I never knew how easy it was until I started experimenting with desserts in my own kitchen. I love the idea of Wild Blueberries in May, turned into a pop with some coconut. This recipe was adapted from the Mom's Kitchen Handbook by Katie Morford MS, RD. I love experimenting with different flavored Greek yogurts that have low sugar. I also make these with plain Greek yogurt and just add berries.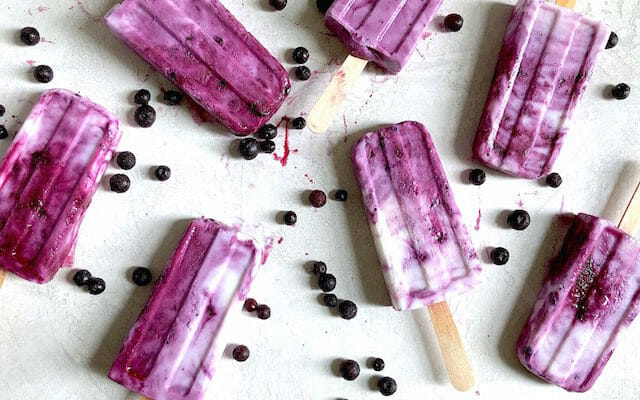 INGREDIENTS.
1 ½ cups frozen Wild Blueberries
¼ cup pure agave or honey
1 tablespoon lemon juice
2 cups coconut-flavored yogurt (or 1 ⅔ cups coconut-flavored Greek yogurt plus ⅓ cup milk OR can use ⅓ cup Oat milk)
INSTRUCTIONS.
Stir together the frozen Wild Blueberries and agave/honey in a small saucepan set over medium-high heat.
Cook, stirring regularly until the Wild Blueberries defrost and the juices boil.
Drop the heat until the liquid is at a high simmer. Simmer for 8 minutes.
Remove from the heat, mix in the lemon juice, and leave the berries to cool for at least 20 minutes.
In a medium bowl, whisk the yogurt (or Greek yogurt plus milk/oat milk) until creamy.
Pour the Wild Blueberries into the bowl and run a rubber spatula through the yogurt a few times so that it looks lightly marbled. Make sure not to completely blend it.
Use a small measuring cup to transfer the yogurt mixture into pop molds.
Freeze for several hours or overnight until completely solid.
Enjoy this on a hot summer day!